Real Bout Fatal Fury 2/Kim Kaphwan
Jump to navigation
Jump to search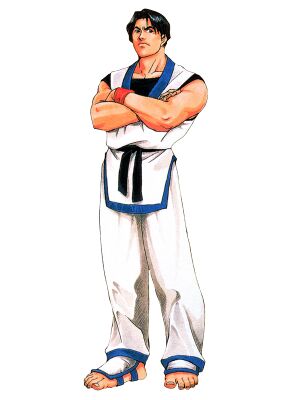 Introduction
Kim Kaphwan is generally a phenomenal character in most games he's in and RB2 Kim is no exception. Kim functions as a defensive footsies focused character who has excellent recovery on his normals, many of which have good range and speed and can combo into his incredibly useful P-Power Hou'ou Kyaku. Add in a plethora of defensive tools to deter any approach and you have a character who thrives in neutral and can punish mistakes on a dime. While he shines on defense however, he lacks somewhat in the offensive department; zoning can really stifle Kim's gameplan as he has no real way to counter projectiles. He can also be out-poked by certain characters with little effort. Lastly, his high-low mixup is exceedingly poor, owing to telegraphed and easily punished overhead options. This forces him to rely on other means to get a hit in, primarily staggers and baiting Breakshots. Ideally, Kim wants to control the pace of the match and force the opponent to make a mistake before capitalizing appropriately. If you like a control-type playstyle that benefits off good defense, Kim is your man.
Pros
Cons

Strong footsies
Probably the best combo super in the game
Great at abusing sway plane mechanics
Endless easy hitconfirm opportunities
Great defensive tools including a flash kick
Can steal an entire round off of one clean conversion

Can't do much if the opponent is blocking
Overheads are slow and have bad data on hit/block
Fireballs and invincible anti-airs give him trouble
Some moves become unsafe or don't combo properly at poor spacing
Normals
Standing
| | |
| --- | --- |
| 5A | |
| | |
| --- | --- |
| n.5A | |
| | |
| --- | --- |
| 5B | |
| | |
| --- | --- |
| n.5B | |
| | |
| --- | --- |
| 5C | |
| | |
| --- | --- |
| n.5C | |
Crouching
| | |
| --- | --- |
| 2A | |
| | |
| --- | --- |
| 2B | |
| | |
| --- | --- |
| 2C | |
Command
| | |
| --- | --- |
| 6B | |
Gut Kick
5AB
Jumping
| | |
| --- | --- |
| j.A | |
| | |
| --- | --- |
| j.B | |
| | |
| --- | --- |
| j.C | |
Oversway Actions
5D
(opponent in oversway)
2D
(opponent in oversway)
A
(from oversway)
B
(from oversway)
C
(from oversway)
Throws
| | |
| --- | --- |
| 4/6C | |
Feints
Hou'ou Kyaku Feint
2BC
Special Moves
Ku Sa Jin Finish
[2]8A~2A
Hienzan
[2]7/8/9B
Hakikyaku
22B
Hi Sho Kyaku
j.2B
Judgment Kick
j.2B~3b
S-Power
Hou'ou Tenbu Kyaku
j.41236BC
P-Power
Hou'ou Kyaku
21416C
Chains
5A>B>C / 2A>5A>B>C
5A>A>B>C / 2A>5A>A>B>C
5A>A>C
n.5C>A>B>C
Strategy
There are three basic gameplans to playing Kim. They are as follows: defense, offense, and plane shift abuse. The last two sound like they go hand in hand, but they'll each require their own section, so bear with me here.
Defense
This is the most fundamental aspect of Kim. He can shut a lot of characters down by just poking proactively with 2B. 2B will do basically everything it needs to, and thanks to needing to be blocked low it will prevent your opponent from simply walking out of your range. Poke with this a few times, and watch for them to jump in. Because you've been using 2B, you already have your charge ready for Hienzan. So anti-air them with that if they're in range. If they get up close, your light attacks are great for making space and letting you shift momentum to your favor. Just be warned of your n.5A whiffing over some crouchers.
Be sure to know your Breakshot options. Hienzan is by far the easiest and one of the most threatening, but its poor horizontal range means there are ways for the opponent to bait it out. Hangetsuzan is your second most useful. The B version has still relatively short range, but it's fast enough to hit a lot of stuff, while the C version goes a long distance and can possibly punish fireballs used just outside of poke range or other long recovery attacks. Hakikyaku is the most interesting one, but probably the least universally useful one. It's not nearly as easy to do as your other Breakshots but it can convert to a combo if your opponent is pressuring you point-blank.
If you've been thinking about your other options, like your Abare normals, you'll realize that all of Kim's light attacks can easily string into his ABC chain. This brings us to:
Offense
We've already told you why Kim's high/low mixup is bad. But that's not the point. Kim's 5ABC chain, n.5CABC chain, feint cancels, and Hakikyaku are all built with the sole purpose of staggering, frame trapping, and baiting Breakshots. There will be one part dedicated to each of these three options. Keep in mind that if you confirm a hit with ANY of these options and you have P-Power loaded, that's an opportunity to combo into Hou'ou Kyaku.
5ABC is the most basic. The idea here is that feint cancelling the final hit leaves you at neutral on block, but at such a range where your opponent will likely get outpoked by 2B if they try to mash. You might try the 5ABC feint cancel chain again, but that won't accomplish a whole lot other than lock the other guy in blockstun until they decide to Breakshot you. But you can feint cancel the earlier hits, or just stop after the first hit. You also have a very long window between the hits to delay and still get the next hit of the chain or cancel into Hakikyaku as a frame trap. That's all fine and dandy, but this chain by itself is pretty lame unless they get hit or you manage to frame trap them.
n.5CABC chain is the next step of this idea. The first attack hits twice, and the second normal can still be cancelled. You're left at plus frames pretty reliably for feint cancelling on hit, and are otherwise just left plain safe and at perfect Kim poking distance. It's also very easy to hitconfirm into the full string and get some pretty nuts damage for your trouble. But you can also combo into Hakikyaku with this, assuming you're in range. If that little light in your head went off telling you that this sounds like yet another Hou'ou Kyaku opportunity, you really are a Kim player.
Hakikyaku is where this gets REALLY fun. The main problem with the previous strings is that they're all mids in a game with pretty generous absolute guard, so there's little risk to just mashing Breakshots if they keep going. So this handy little stomp puts a quick stop to that. There are essentially no breakshots that end with a low-block input, so this move's different timing compared to his chain combos and options combined with hitting low means it's great at baiting breakshot attemps and hitting them. It's incredibly advantaged on block as well, so it's not like guessing the wrong timing on their Breakshot is the end of the world. This becomes, as usual, far more threatening when you're in P-Power and can confirm a good stomp into Hou'ou Kyaku. I know I keep talking about confirming hits into that, but that's how it is when you have a move this good.
Judiciously combine, mix, and match various ways to keep the opponent unable to sit there blocking. Feint cancel to stop your pressure short and start again, Hakikyaku to keep your turn, and stagger the hell out of them. Confirm every hit you can into Hou'ou Kyaku. And don't forget to bait and punish their AB attacks with a low-hitting option or even a Hishou Kyaku. This is all just a start.
You're probably wondering what happens if you just let the 5ABC chain rock on hit, and as such you're ready for:
Plane Shift Abuse
This is where Kim stops playing the game and becomes outright unfair. There is so much to possibly talk about here, so I won't bore you with the details. The basic idea here is that Kim's anti-plane tools in 5D and 2D are among the most absurd ones in the entire game. He gets access to a looping mixup ala Franco, but with the added benefit of a bunch of opportunities to combo into Hou'ou Kyaku and even an Option Select or two.
Keep in mind your best opportunity to get any of this started is off of a feint cancelled 5ABC chain. Without the feint, you aren't nearly advantaged enough to force a response. Here are a few basic ideas to get you started.
Kim's 2D by itself will start up and recover faster than pretty much any back plane 5A. What this means is you can 2D, recover, and if your opponent 5A's over it, you get to 5D them for it.
5D will let you link into your 5ABC chain on hit at most ranges. This naturally lets you shove them right back there and force them to guess again.
If your opponent backdashes in the back plane and you 5ABC'd them from close enough, you get to chase them down and punish their recovery with another 5ABC chain.
You can jump over their back plane attack and Hishou Kyaku them for a healthy helping of damage and a knockdown.