Real Bout Fatal Fury 2/Laurence Blood
Jump to navigation
Jump to search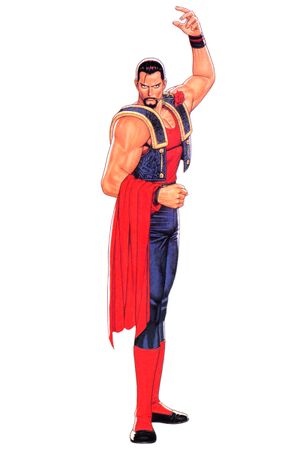 Gameplay Overview
Laurence is a big defensive matador who, fittingly enough, specializes in being hard to hit. He centers around playing the midrange game and baiting his opponent with his 5BC Ole dodge and punishing their whiffs accordingly. To complement this, his Breakshots are versatile and have good damage and he is difficult to punish himself unless he makes a wrong guess with Bloody Cutter. Unfortunately, his close-range defense is lacking at times, as his otherwise reliable Ole completely loses to throws and it's possible to stuff his other attempts to get out of pressure if he's reckless. To play Laurence, you need to read your opponent well and frustrate them into making a big enough mistake to capitalize on. And his stage theme is a serious banger too.
Pros
Cons

BC sidestep will avoid nearly everything and allow unique punishes
Strong chipping potential
Versatile and damaging Breakshots
Good safety on a surprising amount of stuff

Mediocre normals
Poor mobility
No feint of any kind
Crumbles against characters with command grabs
Very limited combo chains
Unique execution compared to others thanks to multiple charge specials
Normals
Standing
| | |
| --- | --- |
| 5A | |
n.5A
(within px of opponent)
| | |
| --- | --- |
| 5B | |
n.5B
(within px of opponent)
| | |
| --- | --- |
| 5C | |
n.5C
(within px of opponent)
Crouching
| | |
| --- | --- |
| 2A | |
| | |
| --- | --- |
| 2B | |
| | |
| --- | --- |
| 2C | |
Command
Swiping Kick
6B
Back Kick
5AB
Ole
Ole
5BC
(During Ole)
5B
(During Ole)
5C
(During Ole 5C)
632C
(During Ole)
2C
Jumping
| | |
| --- | --- |
| j.A | |
| | |
| --- | --- |
| j.B | |
| | |
| --- | --- |
| j.C | |
Oversway Actions
5D
(opponent in oversway)
2D
(opponent in oversway)
A
(from oversway)
B
(from oversway)
C
(from oversway)
Throw
Backbreaker
4/6C
Special Moves
Bloody Mixer
mash A
Bloody Spin
63214A/C
Bloody Cutter
[2]8C
Bloody Saber
[4]6C
S-Power
P-Power
Bloody Shadow
641236C
Chain Attacks
Combos
Meterless
Close B/2B/Ole>5B xx 63214A
This is your most reliable punish. Laurence doesn't have a confirmable low so most of your damage will come from baits and punishes than actual mix-ups.
This is your meterless punish against really unsafe stuff like DPs. Hold down the moment you input the second C. The charge timing is very lenient.
(In the corner) 5CC xx 63214C, [2]8C.
Laurence's highest meterless route against most of the cast.
(In the corner, Andy and Rick only) [Jumping B>C, 5CC xx 63214C, [2]8C]x2
Their hurtbox is wide enough for 63214C to combo even after all being pushed that much. The first rep stuns so you can do it again. Very situational and character specific.
Metered
(S-Power) 5C xx 641236BC.
You need to be pretty close with the 5C for your super to combo all hits as it pushes away too much.
The hitbox is big enough for you to combo into it.
(P-Power, Corner, against Andy or Rick) Jumping BC, 5CC xx 63214C, [2]8C, Jumping BC, 5CC XX 641236C.
Laurence's ToD and an extremely hard to set-up one. If you land this there is 100% chance people will spam the coin button.
Strategy