Real Bout Fatal Fury 2/Wolfgang Krauser
Jump to navigation
Jump to search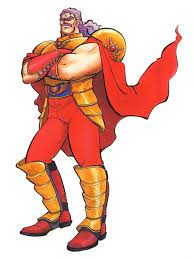 Gameplay Overview
Wolfgang Krauser is a versatile character with several good ways of breaking his opponent's defence. Krauser can also control space effectively with fireballs and long ranged attacks, but suffers when under heavy pressure and in corners. His AB attack is among the best in the game.
Pros
Cons

Has several overheads and special throws.
Great damage output.
Good at controlling space.
Strong supers.

Attacks have slow startup.
No reliable reversals.
Big hurtbox.
His viable breakshots lack knockdown.
Normals
Standing
| | |
| --- | --- |
| 5A | |
n.5A
(within 72 px of opponent)
| | |
| --- | --- |
| 5B | |
n.5B
(within 85 px of opponent)
| | |
| --- | --- |
| 5C | |
n.5C
(within 72 px of opponent)
Crouching
| | |
| --- | --- |
| 2A | |
| | |
| --- | --- |
| 2B | |
| | |
| --- | --- |
| 2C | |
Command
| | |
| --- | --- |
| 6A | |
Elbow Drop
2C while opponent is knocked down
Body Splash
j.2C
Jumping
| | |
| --- | --- |
| j.A | |
| | |
| --- | --- |
| j.B | |
Oversway Actions
5D
(opponent in oversway)
2D
(opponent in oversway)
A
(from oversway)
B
(from oversway)
C
(from oversway)
Throw
Knee Smash
4/6C
Feints
Feint Blitz Ball
2AC
Feint Kaiser Wave
2BC
Special Moves
Blitz Ball
214A/C
Leg Tomahawk
236B
To The Moon Blow
63214B
Kaiser Claw
623C
Phoenix Thrust
41236C
Scum Gale
41236A
Storm Uppercut
66C during Scum Gale
S-Power
P-Power
Gigatech Cyclone
360C
Chain Attacks
Combos
Meterless
cr.A (1-3x),C xx Leg Tomahawk or Low Blitzball or Deadly Rave
A safe combo that can alternate the ending between a low move, an overhead, or a hit confirmed P.Power.

Combo 2
Cr.B,cr.C
or
Cr.B xx Leg Tomahawk
The first variant is a true combo that hits low twice and knocks down. The second variant is not a true combo, but is a useful mixup because it forces the opponent to switch guard after the first hit.

Combo 3
Far A,C
A short two-hit combo that deals decent damage and has pretty good range. Useful for poking purposes. The last hit can be cancelled into supers or specials on block only.

Combo 4
B,C
Similar to Combo 3, but has better range and can be done from both versions of standing B. The second hit cannot be cancelled.
Punishing Combos Combo 5
Close C,C (2 hits)QCF+C
A very damaging combo that will push the opponent back quite a bit both on hit and on block. This makes it safe on block, but highly susceptible to breakshots.

Combo 6
Close C,C (2 hits)df+C xx Kaiser Claw, Leg Tomahawk, Blitzball
The most damaging normal punishing combo that does not utilize Deadly Rave. The Kaiser Claw ender does the most damage, Leg Tomahawk resets the opponent allowing for continued mixup, and the Blitzball causes a very stylish soft knockdown but does lower damage.
Metered
Strategy
Krauser's gameplay can be split into 2 very different playing styles, and a good player would be wise to master both. The style you want to use can be depending on character matchup, player matchup, or the current situation in-game. All in all, these styles are best combined and should be changed between as the game flow changes.
Mixup Style
This style utilizes Krauser's mixup options and special throws for a highly effective pressure game. Krauser's overhead options are powerful, his special throws damaging, and his basic combos, though inflexible, deal good damage. Common ways to start your offence is to do a short jump C attack or a well spaced Leg Tomahawk from long range. These will both force the opponent into blocking high and will allow Krauser to get in his opponents face, keeping the initiative. At close range, Krauser's best options are to use Combo 1 and Combo 2 since they are his fastest and safest attacks. Use the AB attack if your opponent is fond of pressing buttons in order to disrupt Krauser's slower attacks. If your opponent starts to block a lot and generally is afraid, try doing a quick dash-in To the Moon Blow, Scum Gale, or Gigantic Cyclone.
Zoning Style
This style focuses on controlling space and punishing mistakes. Krauser has many good tools for this purpose, but lacks anti air moves with invincibility frames, so any anti air you use is going to be based on prediction rather than reactions. The main tools you will be using for this style will be standing C, Combo 3, Combo 4, Blitzball, Kaiser Claw, Phoenix Counter, Kaiser Wave, and crouching C cancelled into Fake Blitzball. Fake Blitzball and Fake Kaiser Wave can be good for occasionally tricking your opponent into jumping in.