The Last Blade 2/Zantetsu
Jump to navigation
Jump to search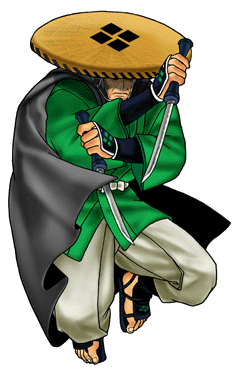 Normals
Standing
| | |
| --- | --- |
| 5A | |
| | |
| --- | --- |
| 4A | |
| | |
| --- | --- |
| 5B | |
| | |
| --- | --- |
| 6B | |
| | |
| --- | --- |
| 5C | |
| | |
| --- | --- |
| 6C | |
| | |
| --- | --- |
| df+B | |
Speed Chain
| | |
| --- | --- |
| 5A>A | |
| | |
| --- | --- |
| C of A>B>C | |
Dashing normals
Check System if you can't get this to come out
| | |
| --- | --- |
| Dashing High | |
| | |
| --- | --- |
| Dashing Low | |
Crouching
| | |
| --- | --- |
| 2A | |
| | |
| --- | --- |
| 2B | |
| | |
| --- | --- |
| 2C | |
| | |
| --- | --- |
| 3C | |
all but low A and low C in Power mode can cancel when crouching
Air
| | |
| --- | --- |
| jA | |
| | |
| --- | --- |
| jB | |
| | |
| --- | --- |
| jC | |
Universal Mechanics
Throw
C+D
| | |
| --- | --- |
| 5B+C | |
Special Moves
Flowing Shadow Fury - 236A
| | |
| --- | --- |
| 236A | |
Devil Drop - 63214C (close in)
| | |
| --- | --- |
| 63214C | |

Spirit Drill - 214B
| | |
| --- | --- |
| 214B | |

Underwater Undulation - 421A
| | |
| --- | --- |
| 421A | |

Mukuro Nui - 236A/B (in air)
| | |
| --- | --- |
| J.236A | |
| | |
| --- | --- |
| J.236B | |

Tenma Kyaku - 2C (in air)
| | |
| --- | --- |
| J.2C | |

Necromancer's Shadow - 646C
| | |
| --- | --- |
| 646C | |
| | |
| --- | --- |
| 646C > 214A | |
| | |
| --- | --- |
| 646C > 214B | |

Oboro Giri - 623C
| | |
| --- | --- |
| 623C | |
Desperation Moves
Steel Crusher - 641236AB
| | |
| --- | --- |
| 641236AB | |
Super Desperation Moves
Dark Hunter - 6321463214B (in close)
| | |
| --- | --- |
| 6321463214B | |
Combos
Any Mode
jA/C 63214C
Dash A/B, any special, dm, or sdm in power/ex
5B 646C 214B(1) 236A 6469C 214A j236A/B x2. Jump canceling the 646C is not strictly required for this to work but it makes the timing easier. Optimal meter less damage (and meter gain) after 236A in any mode.
236A jA j63214C. In speed/ex do jA>jC 63214C
236A 6412369AB. Jump canceled Dm, works within range of the DM's first hit.
2C 2C 5C 236A, follow up of choice
2C 2C 2C 5A 646C 214A j236A/Bx2. Bnb in power, effective in any mode. Input 5A as 6A to make canceling into 646C easier. The input looks like 2C 6A46C 214A
2A2A 2C 5A 646C 214A j236A/Bx2. Alternate to above combo.
Power Mode
2C 2C 5C 214B 641236AB j236A/Bx2 opponent can mash out after 1st hit of the dm, but one example of a dm confirm.
2C 2C 5C 236A jA 63214C
2C 2C 2C 6C 641236AB j236A/B (x2). In a corner hold the dm so both hits juggle, anywhere else release the dm immediately.
2Cx3 5A 646C 214A j236A/Bx2 bnb combo. Putting it here again for reference
4A 6321463214B. Input this as 63214A+C 63214B. If you do the input as 631246A+C 3214B you get 5A xx sdm.
6C 646C 214A (wiff) jA 63214C. For style, cancel to dash slice immediately. You can also do 632147/9C after if you forgo the jA. Doesn't work in a corner.
Cross up JB 2B 6321463214B
2A2A 5A 646C 214A j236A/Bx2 can put a 2C after 2A2A as well.
jB j236A 2A2A 2C 5A 2C 6C 623C 3B. Silly corner combo for style
jB j236A 2A2A 2C jA j2C + followup, land, j236Ax2. Corner instant overhead combo. Works in all modes, just listing it here.
EX Mode
5A 2A 5B 6321463214B
2C 2C 5A 2A 5B 646C 214B(1) 214B 641236AB 22A/B 5A 5B 5C 2C 2A BC 5A link 2C 5A 2A 5B 646C 214B(1) 236A 6469C 214A j236A/Bx2 example of a damage cap combo he can do in ex mode. Note that an astute opponent can mash out of the dm on the ground. Requires desperation
Power and EX Mode
Dash A/B, 214B 641246AB j236A/Bx2
jB 5A 6321463214B
jB j.236A 5A 214B 641236AB j236A/Bx2
jB j236A 6321463214B
anything not involving a cancelled 6C in power mode will work in ex mode.
Speed and EX Mode
Chain to 5B 646C 214A j236A/Bx2. Simple and effective
2C 2C 5A 2A 5B 646C 214B(1) 236A. After this you have some options ("the rest" on this page)
1. 6469C 214A j.236A/Bx2. Optimal without meter.
2. j.A jC j63214C 
3. dash jump jA jB j2C land J.236Ax2
4. 6412369AB J.236A/Bx2 best for damage with meter.
5. Dash forward 5A and tech chase if they air recover.

The reason for the 2C 2C 5A 2A 5B sequence is range and push back, 2A here has less pushback and allows you more damage from a 2Cx2 starter. You can connect 646C 214B from this pretty reliably. Another one that works is 2C 5A 5A 5B 646C 214B(1)236A xx the rest. Experiment and find what works best for you.
*Note that if you have full meter you may want to do 2C 2C 5A 5B instead of 2C 2C 5A 2A 5B or you can activate fandango immediately on pressing 2A thanks to the games input buffer. This can be avoided by inputting 2C and 2A as 1C and 1A, it's good to keep in mind however.

5A5A 2C 5A 2A 5B 646C 214B(1) 236A 6469C 214A j.236A/Bx2 Optimal route for damage and meter, 124 vs normal characters with a jB starter
4A 5A 5A 4A 5A 5A 6C 646C 214A j236Bx2 midscreen
2Cx1-3 236A, the rest. From max range jump cancelled 6469C 214A is the only one that can connect outside a corner (usually)
2A2A 2Cx2 5A 2A 6C 646C 214A j.236A/Bx2. Midscreen.
J.B, j.236A 2A2A 2C 5A 5B 646C 214B(1)236A, the rest
dash B 2B 5BC, the rest
anti air deflect, 236A 228A/B 5A 5B 5C 2C 2A BC 5A link 2C 5A 2A 5B 646C 214B(1) 236A 6469C 214A j236A/Bx2. You can skip the 2C here and link 5A directly after the fandango. Does a lot of damage and gives you a bunch of meter back. Works anywhere.
chain to 5B 646C 214B(1)236A 2369A 228A/B 5A 5B 5C 2C BC 5A link 2C 5A 2A 5B 646C 214B(1) 236A 6469C 214A j236Ax2. If rules allow more than one 236A in a row this is a way to combo into fandango for him and get a chunk of meter back. Corner only.
22A/B 5A 5B 5C 2C 2A 2C 6BC 646C 214A(wiff) 236A, the rest.
Everything listed here can work in ex mode
Super Speed Combos
5A 5B 5C 5A 5B 5C 5A 5B 236C
5A 5B 5C 5A 5B 5C 5C 5B 5A 236C Use this one for damage. 
5A 5B 5C 2C 2A 2C 6BC
5A 5B 5C 2C 2A BC 5A 5B 236B Use this for combo extensions after BC 5A