The Last Blade 2/Shinnosuke Kagami
Jump to navigation
Jump to search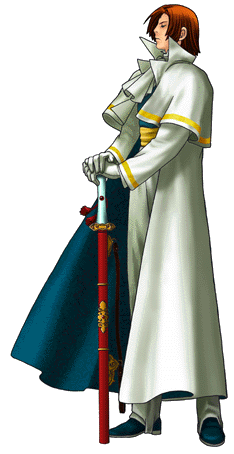 Normals
Standing
| | |
| --- | --- |
| 5A | |
| | |
| --- | --- |
| 4A | |
| | |
| --- | --- |
| 5B | |
| | |
| --- | --- |
| 6B | |
| | |
| --- | --- |
| 5C | |
| | |
| --- | --- |
| 6C | |
| | |
| --- | --- |
| 3B | |
Dashing normals
| | |
| --- | --- |
| Dashing High | |
| | |
| --- | --- |
| Dashing Low | |
Crouching
| | |
| --- | --- |
| 2A | |
| | |
| --- | --- |
| 2B | |
| | |
| --- | --- |
| 2C | |
| | |
| --- | --- |
| 3C | |
All buttons are cancellable in Speed Mode minus 6B and 6C
Air
| | |
| --- | --- |
| j.A | |
| | |
| --- | --- |
| j.B | |
| | |
| --- | --- |
| j.C | |
| | |
| --- | --- |
| j.2C | |
Speed chain
| | |
| --- | --- |
| 5A>A | |
| | |
| --- | --- |
| 5A>B>C | |
All moves in this section are exclusive to speed/EX mode
Universal Mechanics
Throw
C+D
| | |
| --- | --- |
| 5B+C | |
A, B, and C can cancel in both Power Mode and Speed Mode
forward + B (Power and Speed) is not cancellable
forward + C in Speed Mode is not cancellable
Special Moves
Hienyoku
236A
Gouensou
236B
Syouhoukou
623A/B
Both versions are Super Cancel able. First hitbox of 623B is air unblockable
Enhoukou
63214A/B(close)
Kagami grabs opponent, lifts them into the air, stabs them with his sword and explodes the opponent with fire
Shizukanarukodou
214C
Desperation Moves
Gurensuzaku
41236AB(in-air)
From the air, Kagami dives down like he does in Like a Furnace, incased in fire and hits again making a V shape and taking the opponent on his flight path
Seikairyougen
641236AB
Super Desperation Moves
Hououtensyou
41236B (in-air)
Same motion as Sparrow of the Red Lotus Thrust, but deals more damage and creates a phoenix image during the attack
Combos
Any Mode
J.2C 63214A
J.2C 41236AB 3B
2Cx3/4
J.2C 236Bx2 (vs airborne)
Power
2C(x2/3) 4AC 623B 41236AB
Not strictly power mode only but you want to learn this. Bnb combo into dm. How many 2C's you use depends on how close you are to your opponent. 2C 4AC is a 1f link
6B 2C 4AC 623B 41236AB. Big damage flex punish combo. 2 1f links in a row
EX Mode
2Cx3 623B j41236AB
See speed mode. Ex combos for kagami are the same as speed mode, anywhere you can put a 623B or 623A you add his DM when you have meter or are in desperation
Power and EX Mode
j.2C 623B, 41236AB, 3B
j.2C, j41236B
jB, j41236B
Speed
4A 5A 2A 2B BC 623A (corner)
Dash B 2B BC or any special
2Cx3, 4AC, 5A, 2A, 2B, BC dash otg 3BCD or hop forward B (catches a tech) 3B. Bnb in speed
2Cx3, 4AC, 5A, 2A, 2B, 6B, 2C 623B (difficult, optimal for damage without breaking any rules)
2Cx1-4, 623B
[2C 4AC 6B]xN infinite. Very difficult to do consistently, 2 1F links in a row. May be limited in some rulesets. Usually one 6B, 2C link is allowed.
J.B, 4A, 5A, 5A, 2B, 236B (x2), dash 3B
j2C, 22A/B. Combo into fandango. If j2C hits vs an airborne opponent high enough this can work anywhere on screen
22A/B 5A 5B 5C 2C 2A 2C 6BC
After the launch you have several options depending on screen position and desperation status
1. dash j2C 236Bx2 dash 3B Most damaging option outside a corner
2. j2C 236B 623A 3B (corner)
3. 63214A (whiff) 623A works anywhere. Whiffing 63214A or doing 214C (release) immediately after the launch messes with gravity and causes the opponent to drop closer to you, making the 623A connect without requiring a dash
4. 214C(hold) use this to delay win pose and get meter back when it kills.
5. j41236AB. (corner in desperation) J.2C xx j41236AB can work here as well. Input the dm as 412369~AB (a slight pause between the 9 and the button inputs) To cancel dive into dm input the dm as quickly as possible.
Super Speed Combos
A + B + C + A + B + C + A + B + 236C
A + B + C + A + B + C + C + B + 236A easiest one for damage without extra followups
A + B + C + d C + A + d C + 6BC Use this for damaging followups
A + B + C + d C + A + BC + A + 236B
Guard Cancel
412D j.2C 236Bx2 3B. Best for damage outside of desperation. Delay the 2nd 236B slightly
412D 623B (41236AB in desperation)
412D j.2C 236B 623A (41236AB in desperation) 3B. Corner
412D D 214C (hold) Use when you know it will kill to end a round and get meter back