Real Bout Fatal Fury 2/Joe Higashi
Jump to navigation
Jump to search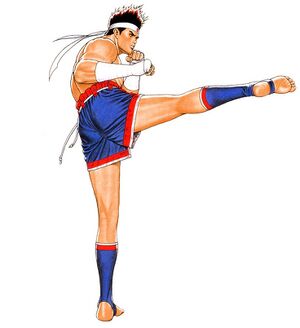 Gameplay Overview
Gameplay Notes
Joe is one of those characters that could best be described as "solid". He has a nice set of normals, some combos, very all-round special moves and a decent P-Power. Joe's strengths lie in his distance and poking game. His standing C and dashing C are great pokes that come out very fast and recover fast enough that you may keep up pressure even when blocked. His projectile does okay damage and cannot be hopped over, and the double projectile does very good damage for a non-super projectile, slightly higher than Geese's Double Reppuken. In addition, this version will ensure he wins any fireball fight against normal projectiles. His Tiger Knee is probably one of the highest priority uppercut moves in the game. You almost never see this beat by anything, as he has invincibility frames on start-up. In addition, his Crescent Moon Kick special can work as a long range air counter against predicted jumps. Since Joe's projectiles have to be high-jumped, this can be useful at times. Also, his Slash Kick is an excellent combo ender, punisher, and surprise move. Blazingly fast, and the B version is somewhat safe on block. The C version can punish a mistake across the screen, and does good damage. Joe is also a king of anti-airs. Here are the different ones at his disposal:

4B - High Roundhouse
214B - Crescent Kick
623B - Tiger Kick
641236BC - Screw Upper (S-Power)

When it comes to Joe's weaknesses, his 2C has horribly short range, and what's worse is that he is one of the few characters in the game that cannot use a strong low move in his combos. In fact, the only low-hitting move he can do in his combos is 2B, and the follow-ups that this move allows aren't really damaging. Even though Joe can finish his combos with u + C which is an overhead, he does not have any low equivalents, and this makes his mix-up game rather weak. On the plus side, 2C recovers quickly and can be cancelled on block or hit.
Joe's combos are very bad when it comes to mix-up potential and he has several redundant chains that does nothing but get in your way. On the other hand, the most damaging ones can all start with an A or B, allowing him some threatening power in trading situations.
Play style-wise, Joe should try to utilize his great pokes and long-range moves to intercept the opponent's movements. Joe is fast enough to get out of pressure so he can fight up close as well if needed, just don't expect to be doing any fancy mix-up with him. Joe has two grabs, the first one is unique in that the opponent can fast-recover from it, and his second grab can be mashed out of, but even if you press nothing and your opponent mashes you will usually get in most hits. Hits a maximum of 10 times for above average damage.
Pros
Cons

Nice normals, combos, and special moves

Good distance and poking game

Typcially can win any fireball fight against normal projectiles

Tiger knee has very high priority

His sweep has very short range

Cannot use a strong low move in combos

Very bad mix-up potential with combos

Has several redundant chains

Most normals are terrible
Normals
Standing
| | |
| --- | --- |
| 5A | |
n.5A
(within 48 px of opponent)
| | |
| --- | --- |
| 5B | |
n.5B
(within 57 px of opponent)
| | |
| --- | --- |
| 5C | |
n.5C
(within 58 px of opponent)
Crouching
| | |
| --- | --- |
| 2A | |
| | |
| --- | --- |
| 2B | |
| | |
| --- | --- |
| 2C | |
Command
High Kick
4B
Sliding Kick
3B
Special Taunt
2C when the opponent is knocked down
Side Kick
5AB
Jumping
| | |
| --- | --- |
| j.B | |
Oversway Actions
5D
(opponent in oversway)
2D
(opponent in oversway)
A
(from oversway)
B
(from oversway)
C
(from oversway)
Throw
Lifting Pressure
4/6C
Rapid Knees
3C
Feints
Feint Hurricane Upper
2AC
Feint Slash Kick
6AC
Special Moves
Tiger Kick
623B
Golden Heel
214B
S-Power
Screw Upper
641236BC
P-Power
Combos
Chain Combos
Punch Starters
5A ()  --------> 5B             -----> 5C (2, E)  
                5S (E)
n.5a ()----> 5A (, 1)      -----> 5A (E) 
          :     5B (, 1)             5B (, E)
          :     2B (, 1, _)      5C (E)
          :     5C (, 1, E)          3C (, A, E)
          :                          8C (O, E)
          :
          :
          ----> 2A ()     -----> 5B (, 1)----> B (, E) 
                                     5C (, 1, E)   5C (E)
                                                   3C (, A, E)
2A ()------> 5A (, 1)      -----> 5A (E) 
                5B (, 1)             5B (, E)
                2B (, 1, _)     5C (E)
                5C (, 1, E)          3C (, A, E)
                                     8C (O, E)
j.A (O)---> j.C (1, H, O, E)

Kick Starters
B ()  --------> 5C ()         -----> 236C (E) 
n.5B ()----> 5C (, E)
j.B (O)---> j.C (1, H, O, E)

Strong Starters
None

Chain Analysis
Combos. For many characters, this is where they get most of their power from. Joe on the other hand has to rely a bit more on his normals and special moves. His combos allow for little mix-up, they include many redundant chains, and most have bad range.
I will list the combos that are of importance. If a combo is missing here it is either because I consider it to have no use, or I have simply forgotten. Feel free to comment if you feel I have missed something.

5A, 5B, 5C
This very basic combo can only be done from a far version standing A, which can be crouched and has short range. What you can do is kara the rest of the combo from the punch so you get a long range double kick combo that can be useful for poking. Can be useful at times, but do not use this combo for punishing purposes, as there are more damaging ones.

2A, 5C xx Slash Kick / Tiger Kick / Hurricane Upper / Exploding Punch / Thunder Fire (P-power)
This basic combo may seem very small and weak at first, but it has some use because the C is one of only two combo enders that give enough frame advantage to follow up with a strong Slash Kick. The bad thing about this combo is that the very same C can be ducked.
This combo also leads into Joe's most damaging combo setup without meter. More on this in the advanced combos section further down the page.

Close 2B, 5C, -> Slash Kick / Tiger Kick / Hurricane Upper / Exploding Fists / Thunder Fire (P-power)
Very similar to the previous combo mentioned, except this one cannot be crouched. The bad thing about this is that it requires you to be at point blank range in order for the second hit of the combo to hit. Otherwise the first hit will push them out of range, which can and will be fatal. This is the second of the two ground combos Joe has that can lead into a strong Slash Kick.

2A, 2B, 3C, -> Tiger Kick / Slash Kick / Golden Heel Blast / Screw Upper (S-power)
This is the potentially most damaging combo that Joe can dish out unless he has P power. As with most of his other combos, it has horrible range, but the last hit of this one is a launcher, and Joe has many moves that can juggle after it, the most notable being his S Power. If the S-Power is unavailable, you can pretty much choose the follow up you want. The C version Slash Kick does the most, but requires precise timing to hit properly. The Golden Heel Blast comes in second in damage.
This is the most useful punishing combo Joe has, but you should avoid using the launcher on block, since it can be punished unless you cancel it into a special move, which is a risky situation either way.

2A, 2B, 5B xx Tiger Kick / Slash Kick / Thunder Fire (P-power) A safer version of the previous combo. This one does not launch the opponent, nor does it provide sufficient frame advantage to use the strong followups.

5B, 5C xx 236C
This is Joe's command combo. Joe performs a shin kick, then a high hook, then performs three roundhouse kicks in increasing height at his opponent. The last hit launches them. You can then juggle with a Tiger Kick in corners. Damage is more or less the same as the A, B, C combo unless you get off the juggle.
Be aware that if the second hit of the combo misses the opponent, then only the first kick of the qcf + C combo will hit, and the last two kicks will pass through the opponent without hitting. Against an opponent who knows, this will be a fatal mistake, so be careful and make sure to hit confirm the second hit before you input the qcf + C
You can cancel the second hit of the combo into any special or super or feint move.
Other Chains
5A, 5B, 8C - Joe will follow up his normals with a sort of flipping downward arcing kick.
-This chain can be done standing, crounching, or a mixture of both.
-Must begin with an A and then follow with a B or else the u + C will not come out
-The 8C part is an overhead, and will still come out and count as an overhead even if the A and B are blocked
-The 8C can be blocked even if the A, B connects.
5B, 5C xx Tiger Kick - Short combo than can be ended with Tiger Kick.
-Four hit combo
-Can replace Tiger Kick with Slash Kick, Exploding Punch, and Hurricane Upper, but these are not as safe
5A, 5B, 8C, 641236C - Joe hits the opponent with his overhead chain, and then goes into Thunder Fire.
-Since the 8C overhead can be blocked even if A, B connects, its best to use this combo on crouch blocking opponents
-Provides a bit of deception/mix-up for Joe
-Do not attempt if the opponent is standing before the 8C connects
Miscellaneous
Notes