Real Bout Fatal Fury 2/Mai Shiranui
Jump to navigation
Jump to search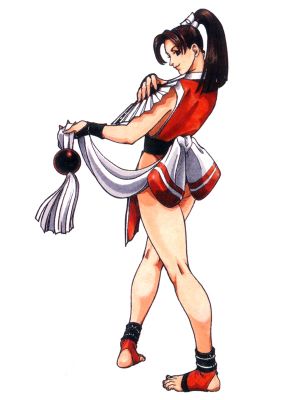 Introduction
Mai is a well rounded character that has lost some of her pressure and combo options from Real Bout Special in exchange of a more defensive oriented playstyle on neutral. Her basic gameplan of zoning with Ka Cho Sen (236A/C) and Night Bird (214C) to anti-air can make her seem like a traditional shoto, but she has more movement and aerial options at the cost of the range in her pokes. She also has a triangle jump and an air throw to make her jumps trickier to stop, and a get-up attack to push opponents away. If played well, Mai can feel unapproachable while still having very decent pressure thanks to her 18f feint.
As said previously however, Mai often needs to put herself at risk if she wants to compete at the mid-range, with a risky Ryu Enbu (214A) or counterpoking. Her damage can be good up close but she struggles to make good reward or her zoning and long range buttons when compared to other characters, making her gameplan inherently risky.
If you like characters with good movement and both fullscreen and close quarters options, Mai may be just for you.
日本一!
Pros
Cons

A solid, traditional gameplan with fireballs and anti airs.
Good movement options.
A threath far away and up close
Good damage up close if the player is good with linking after 2A>2C

Unrewarding gameplan from afar, and midrange tools are lacking.
Not a weakness of her toolkit perse, but she doesn't push any of her strenghts as heavily, as she isn't the best in the game in any of aspects she specializes.
Struggles heavily when having to make a comeback.
Normals
Standing
| | |
| --- | --- |
| 5A | |
n.5A
(within 57 px of opponent)
| | |
| --- | --- |
| 5B | |
n.5B
(within 73 px of opponent)
| | |
| --- | --- |
| 5C | |
n.5C
(within 56 px of opponent)
Crouching
| | |
| --- | --- |
| 2A | |
| | |
| --- | --- |
| 2B | |
| | |
| --- | --- |
| 2C | |
Command
Tail Strike
4A
Triangle Jump
9 next to a wall
Double Foot Strike
Mash S after knockdown
Jumping
| | |
| --- | --- |
| j.A | |
| | |
| --- | --- |
| j.B | |
Oversway Actions
5D
(opponent in oversway)
2D
(opponent in oversway)
A
(A from oversway)
B
(B from oversway)
C
(C in oversway)
Throws
Fuushakuzushi
4/6C next to opponent
Yumezakura
1/3C Next to someone in the air
Feints
Feint Ka Cho Sen
2AC
Feint Flower Hurricane
2BC
Specials
Ka Cho Sen
236A
Ryu Em Bu
214A
Night Bird
214C
Shinobi Bachi
41236C
Musasabi Mai
j.2AB
S-Power
Cho Shinobi Hachi
641236BC
P-Power
Chain Attacks
Combos
Meterless
Metered
Strategy